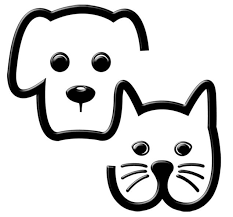 For everyone frustrated with that big clumsy cat tower in the middle of the living room. The big poofy dog bed that is the ugliest design but it was on sale. The dark spots on your light color rug that you just can't get out and keep telling people it is coffee stains! It's time to face the fact that if a house doesn't work with dogs, it won't work with children or guests, either. You can have the beautiful house and a fur friendly environment too!  Many people ask me how i know all of this....I used to work in the New Home Sales Industry and was well informed on all the products being used in my clients homes.....who knew it would stick after all this time:) I have also built 3 new homes for myself and having had cats and dogs i have experienced most of these issues for myself first hand. You live and you learn.....here is hoping you don't have to!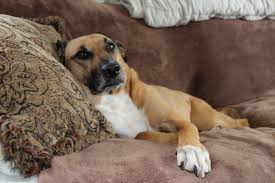 Use stain-resistant fabrics.
Some people say a leather chair is fine around pets, but beware if you have cats. My dogs are fine on my firm leather couch, but they also only weight 15 lbs combined. Large dogs may tear holes in the leather sofas and chairs if they are allowed up on the furniture. A dog's nails are blunt instruments compared with those needles at the end of kitty toes. Cats will scratch most any upright surface that lets them dig in. For them, microfiber is the key, with the bonus of feeling as smooth as suede and being extremely moisture- and stain-resistant. Ultra-suede is a a fancy name for a particular microfiber that's machine washable. It comes in dozens of colors and can be made into pet beds, pillows, and sofa and chair slipcovers. This means you pick which designs and colors compliment you and your decor ideas and dreams. 
Match colors to your pet. Use your pets as design inspiration and see what magic you can create. Start with the pet bed, choosing a black one for your black Lab or a cream-colored one for the Siamese. This way when your pet sheds the fur or hair will blend in and not seem so messy all the time......especially for those of us that were born with the "Neat and Clean Freak" genes. Look at furniture covers and walls for more coordination.
Use washable fabrics on your bed. If you are like me then your fur friends sleep with you. You want to be able to wash the duvet, comforter or bedspread. Some coverlets are surprisingly durable, with tight quilting that resists pet toenail snags and looks good after repeated washings. I like to go for white sheets no matter what as I have an obsession with bleach, but you can use color on top and it can go a long way to brighten a room and disguise pet hair.
Rethink wall-to-wall carpet. It absorbs odors, traps pet hair and soaks up stains. If you must have carpet, choose a low pile and a stain-resistant synthetic fiber. Stay away from continuous loop carpet because pets' claws can catch in a single loop and easily unravel a wide area.  Hardwood floors are simple to clean and add a warm glow to a room, but large dogs can scratch wood. There are a variety of awesome laminate floors that are more durable and have great wood effects......you would never know. The best floor is easy-to-clean ceramic tile. It's impervious to claws and gives your pets a cool place to nap during hot weather. Marble, granite and other natural stones are porous even if they're sealed, and are susceptible to stains.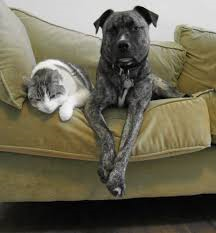 Set up an entry space with pets in mind. Make sure they can come back in from outside through an area where you can get the dirt and wet off before they come into the main house. Even a small condo can accommodate a bench with cubbies for towels, leashes and treats. Consider special mats that are very absorbent and will soak up wet feet and mess. I personally don't have a bench or cubby but hung some hooks on the walls to accommodate leashed and a Norwex pet cloth that hangs from a hook. They are super absorbent and disinfection with no soap or chemicals.......but that is a whole other story!